A nine-year fight for recognition by Djiru Traditional Owners on far north Queensland's Cassowary Coast ended with a native title determination. In September 2011, Djiru people, past and present, were recognised as the Native Title holders of their traditional lands in the Mission Beach area.
9,440 hectares of land and waters in Mission Beach and surrounding areas including areas of national parks, reserves, unallocated State land and other leases were transferred back to Djiru following their successful Native Title claim.
Links:
National Native Title Tribunal: News - Native title recognition for the Djiru People
http://www.nntt.gov.au/News-and-Publications/latest-news/Pages/NativeTitlerecognitionfortheDjiruPeople.aspx
ABC News Article 1st September 2011 - "Long wait over for native title nod"
https://www.abc.net.au/news/2011-09-01/long-wait-over-for-native-title-nod/2865640?utm_campaign=abc_news_web&utm_content=link&utm_medium=content_shared&utm_source=abc_news_web
Queensland Government Statements: Landmark handover of land to Traditional Owners at Mission Beach
https://statements.qld.gov.au/statements/69689
Tully Times Newspaper 8th September 2011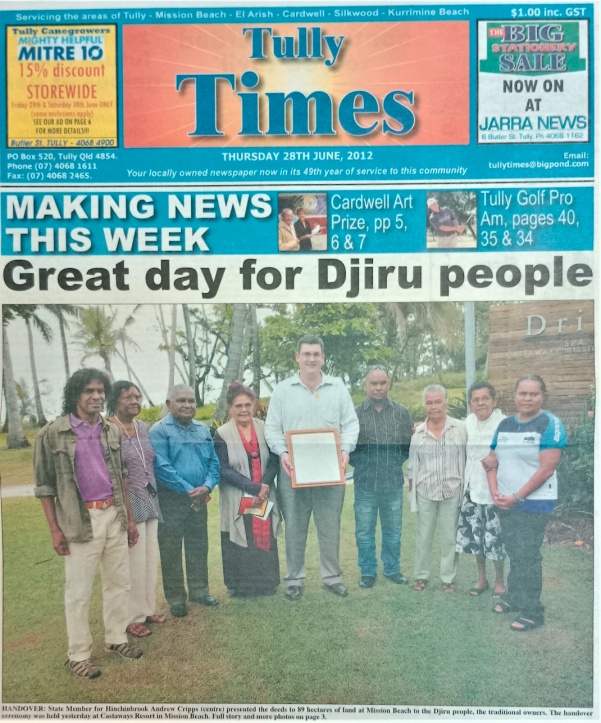 Tully Times Newspaper 28th June 2012