Djiru are coastal rainforest people and the Aboriginal Traditional Owners of the land and sea country of Clump Point and greater Mission Beach area, from Maria Creek to the North, Hull River to the South, Dunk Island and surrounding Islands to the East and El Arish and East Feluga to the West.
Djiru have lived in this area for thousands of years.
Their traditional rainforest and coastal country has provided them with food, medicine, materials and resources. Their language, stories, songs, dances and cultural traditions reflect their coastal rainforest environment and lifestyle.
Clump Point is an important part of Djiru tribal country that includes story places, hunting and fishing grounds, waterholes, ceremonial, camp and burial sites. These sites remain today as reminders of the long term occupation of the area by Djiru.
Djiru share much culturally and linguistically with nearby tribes such as Jirrbal, Girramay and Gulnay.
INDIGENOUS CULTURAL SIGNIFICANCE ASSESSMENT MISSION BEACH
An initiative of FNQ NRM Ltd
Produced by the Djiru Traditional Owners in conjunction with Girringun Aboriginal Corporation, compiled by Philip Pentecost, October 2007:
Caring for Country
Djiru Traditional Owners cultural knowledge, laws, customs, beliefs, identities and responsibilities are intrinsically linked to their traditional country, lands and waters.
'The relationship between our people and their traditional country involves certain rights, including certain rights to use the land and its products, responsibilities to our ancestors and obligations to land and sea country, including the protection of natural and cultural resources and values associated with our land and sea country. These traditional rights have been recognized in law through the Native Title Act 1993 and more recently, the Queensland Aboriginal Cultural Heritage Act 2003 (…).
Many sites known to and used by our ancestors have been destroyed by land use change following European colonisation, including the clearing of large areas of ancient rainforest and woodland on Djiru country and the filling in, disturbance and destruction of important watercourses, swamps and lagoons.' Djiru People, their Country and Cultural Values, Djiru Warrangburra Aboriginal Corporation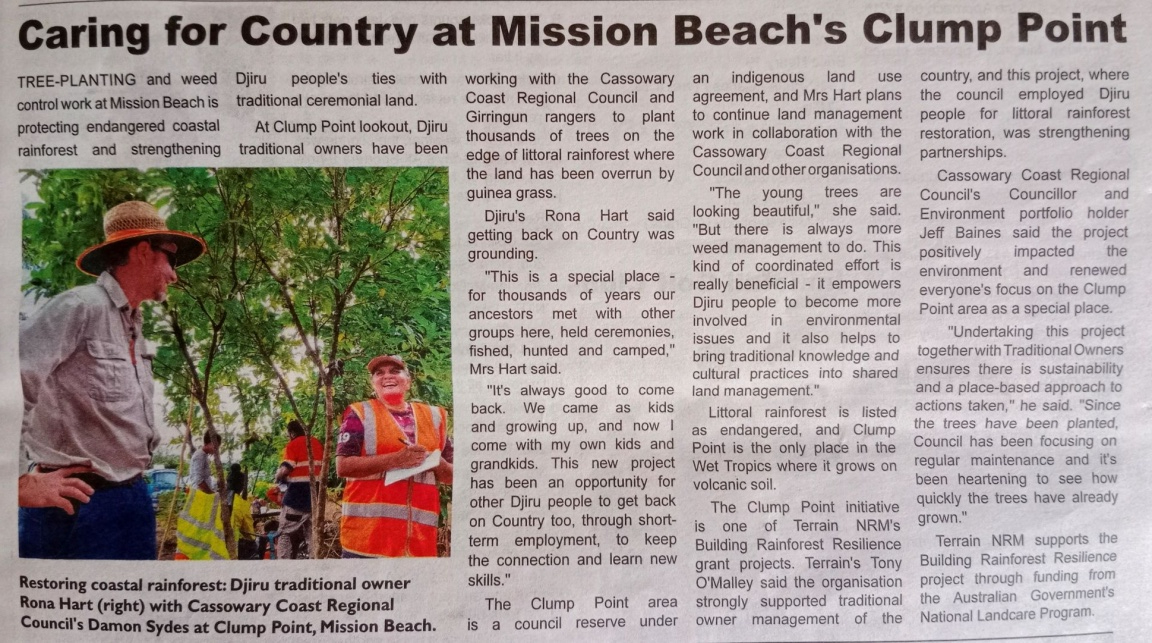 Wet Tropic Times 8th March 2022