Djiru country is the home of the highly endangered southern cassowary, Gunduy.
'The cassowary is an important animal to our people and we would like it to be here in the future for our children and children's children to see.' L. Andy, personal communication, August 2021.
Links:
Leonard Andy with the 'Gunduy Midja' (cassowary dwelling), 2019,
Art installation in collaboration with Nina Dawson, Cassowary Festival, Mission Beach - Photograph V. Boll.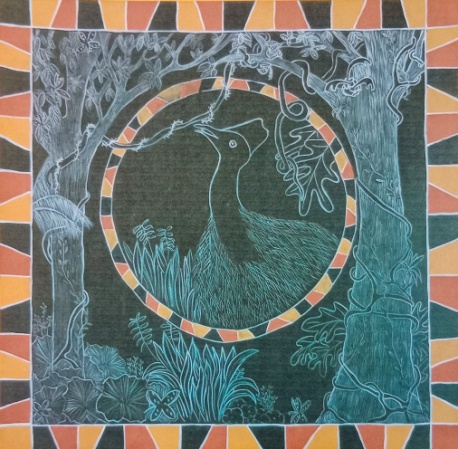 Cherie Mooner, Cassowary feeding in the forest, acrylic on canvas, 2022, 75x74 © C. Mooner – Photograph V.Boll
"Growing up I was told that Gunduy (Cassowary) is very important to us rainforest people, my father, and grandfather's family.
But I didn't experience that feeling until I started learning my country, now I realise, the connection and role of Gunduy in the rainforest.
Every time I see a Gunduy I know that my culture is still alive, which is why I try to do as much as I can to ensure its survival, now and into the future."
W. Rassip , Djiru Traditional Owner
https://www.rainforestrescue.org.au/save-the-cassowary/cultural-significance/
Goondoye Country - N. Byrnes Arboretum, Mission Beach – Photograph V. Boll