by Leonard Andy & Dr Valerie Boll
The Hull River Aboriginal Settlement operated from 1914 until it was destroyed by a severe tropical cyclone in 1918. This Queensland Government settlement, covering 2900 acres of land, was never a mission in a religious sense.
'The Hull River Aboriginal settlement was built on Djiru traditional land, close to the Hull River. Djiru people didn't have a say; they were never asked whether or not they wanted that establishment. The so called 'Hull River Mission' was never a mission in a religious way. It was not established to help Aboriginal people, it was a prison camp and 'inmates' were treated like 'dogs'.
Local Aboriginal people and some from far away, who were forcibly removed and transported in chains, were taken to this settlement and had to work hard. Either work or being punished! It was slavery. Some Traditional Owners came willingly to join family incarcerated at the Hull River settlement. Many run away. They were called deserters, were hunted down by the local police, and tracked down by the Native Police and some settlers. They were severely punished or even murdered but they were only trying to get back to their traditional lands. People stayed in their tribal groups and didn't mix with each other at the 'Mission'. They were mostly fed on flour, sugar and tea and had to look for bush tucker to supplement their diet. Finding any food was harder and harder because of the high number of people living in a small area.
The settlement got wiped out by a severe cyclone in 1918. Many Aboriginal people were injured and lost their lives. Some escaped but most were captured and sent without consultation or consent to Palm Island, East of Townsville. Some were sent to Innisfail.
Being removed from their traditional lands had a terrible impact on Aboriginal people physically and spiritually.
Djiru people were taken to Palm Island and many of them call this place home today.' L. Andy, personal communication, March 2022.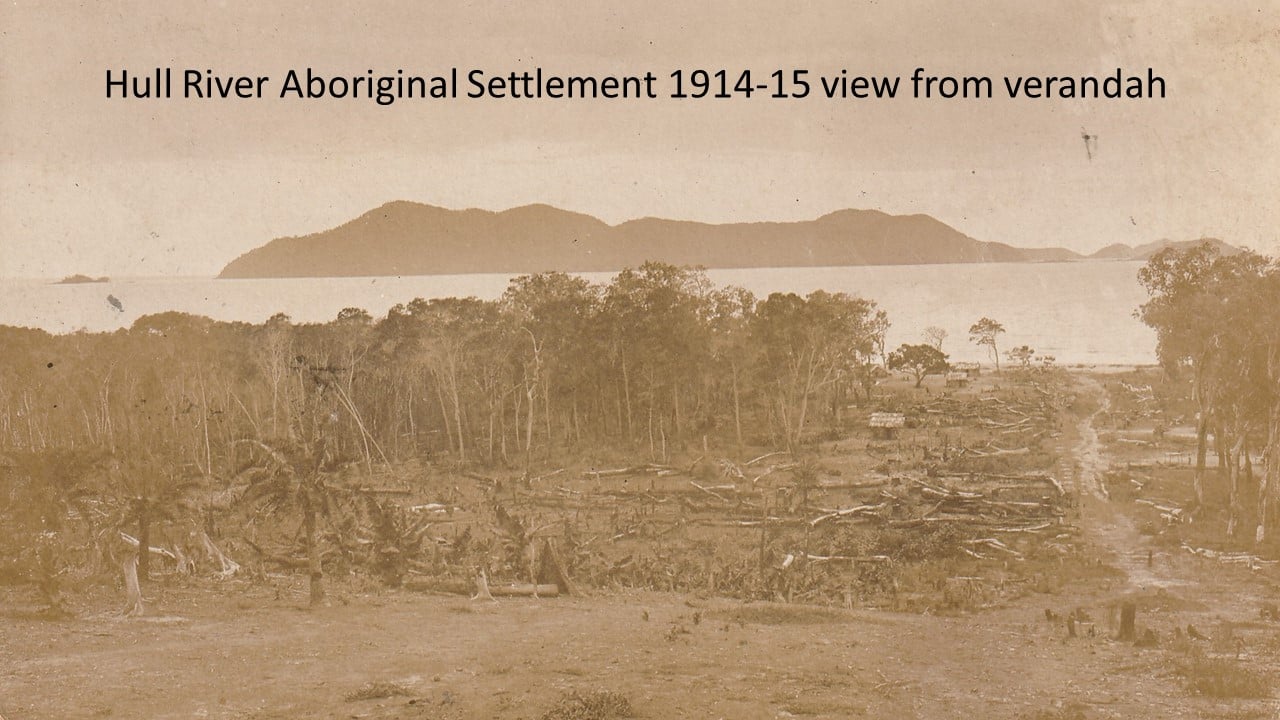 Image courtesy of Ken Campbell
Group of Aboriginal people on the beach, Hull River Settlement, 1914.
Annual Reports 1914-16.
Old Mission site, South Mission Beach
Photograph V.Boll
Plaque, Hull River Aboriginal Settlement memorial site – Photograph V. Boll
Hull River Aboriginal Settlement Interpretative Centre
The Centre was erected on Djiru traditional country to provide a permanent keeping place for the story of the Hull River Aboriginal Settlement. It is also a memorial to the many Aboriginal people who passed away there during the early years of the 20th century.
A modern version of a traditional Aboriginal dwelling called mija (in both Jirrbal and Girramay languages) was chosen as main edifice.
Hull River Aboriginal Settlement Interpretative Centre, South Mission Beach – Photograph V. Boll
Past and Present Descendants of Aboriginal People sent to the Hull River Settlement – Photograph V. Boll
Rainforest Aboriginal News, May 2002
Further reading on the Hull River Aboriginal Settlement is available in the story: Superintendent Kenny - The Hull River Aboriginal Settlement