Compiled by Ken Gray
Edited by Margaret Remilton, Diane Bull and Chris Forbes
Brookes Beach is a unique beach with quality rainforest reaching down to its edge for the entire length of the beach. It has a Council maintained 50-metre path from a sealed road to access it yet has no road traversing it as most Australian beaches do, so the forest has not been cleared.
DOROTHY BROOKE
Dorothy Victoria Brooke (nee Watson) was born on 21 April 1897: in New Malden, Surrey, England.
Interview with Ruth Gimbert of 11 Webb Court, Bingil Bay; daughter of Dorothy.
Conducted by Ken Gray; 19 May 2010.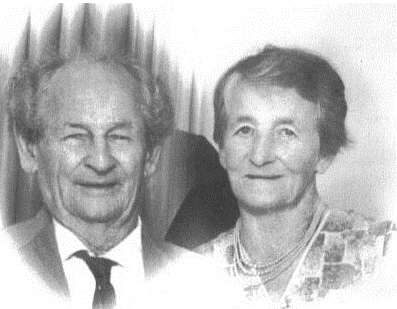 Bernie and Dorothy Brooke.
Dorothy's father was Thomas Oliver Watson, mother Matilda Victoria Watson, brothers Dick and Phil, and sister May. Husband Bernie Brooke, children Ray, Gordon, Ruth and Paul.
Ruth's father, William Bernard Brooke, known as 'Bernie', was born in Brisbane in 1890. Bernie went to Gympie then migrated north to Millaa Millaa in 1902 and drew land from the government in Millaa Millaa. His family followed shortly after. Bernie and his later-to-be brother-in-law, Phil Watson, both served in France in WW1, and both ended up in Millaa Millaa. After the war, Phil was joined by brother Dick once he was released from the Merchant Navy.
The name is correctly spelt 'Brooke' (with an 'e') and Ruth has traced this spelling back to ancestors of the 17th century. The correct spelling is important to Ruth to ensure that Dorothy's place in the history of the area is accurately recorded.
Dorothy Victoria Watson was not related to Mission Beach's long-term residents Howard and Iris Watson or other long-term residents of the region, Jock and Marie Watson. She joined volunteers who worked on England's farms during WW1. Phil Watson, her 'black sheep' brother, migrated from England to the Darling Downs, QLD, before WW1. Phil was living on the Tablelands and knew Bernie Brooke when he brought his widowed mother and two sisters May and Dorothy out from England in 1920. Dorothy met Bernie there, not during the war overseas as some had believed.
Dorothy and Bernie married in February 1922. Bernie operated a bullock team for hauling timber in Millaa Millaa. They had three children: Ray 1923, Gordon ('Tiger') 1926 and Ruth 1928. In 1944, Dorothy and Bernie adopted a son, Paul, who now lives in Townsville having served in the Vietnam War.
In 1931, the Brooke family moved to Silkwood (Number 4 Branch) where Bernie cut cane. They travelled on horseback from Millaa Millaa with Ruth on the pommel (front part) of the saddle on her Mum's horse. Tiger was on the pommel of Bernie's horse, and Ray rode his horse.
Ray went to school at Silkwood, but Tiger and Ruth were too young to travel that distance so did correspondence school instead.
The family then moved to the 'old dip' of AJ Daveson (just north of El Arish). Bernie drove a bullock team for AJ then drew a block at Granadilla (1936) and cleared it with his bullock team. The government required settlers who drew lots, to have the land mainly cleared and a home built within two years. Ruth went to school at Granadilla and there she met her lifetime friend, Jock Watson, whose family also owned land in Granadilla. Jock was later to own land at Clump Point|Mission Beach, and with his father, Claude opened up the Porter Promenade subdivision.
In WWII, Bernie was too old to go to the war as a soldier, but Ray was called up when he was 19. The police came to the area in 1942 and asked families to leave North Queensland because they thought that the area was highly prone to a potential Japanese invasion.
Hence, on 07 February 1942, the Brooke family left for Hughenden. Bernie volunteered for the CCC (Civil Construction Core) to build roads etc. for the army. Ray went into the army but left shortly after and joined the Air Force where he served in the PNG LAC (Land Aircraft Crew) preparing aircraft for flights.
The Brooke family moved back from Hughenden later but not as one. Ray married and settled in El Arish where he hauled timber with a truck. Bernie and Dorothy liked the west and stayed. Bernie was fencing and shooting kangaroos to earn a living at the time. He, Dorothy and Tiger came back to North Queensland in January 1955 where they had purchased land earlier (1953) on the northern headland at what is now known locally as Brookes Beach. They built a wooden home (relocated from elsewhere) and added to the building in time. This building was recently removed. Tiger married and settled nearby in a rented home. Today, Tiger lives in Palmerville on Cape York.
Ruth left school and became a typist clerk at Flinders Shire Council in Hughenden. In Hughenden, she met and married (1950) local mechanic Frank Gimbert. Ruth remained in Hughenden until she and Frank retired and shifted to Webb Court Bingil Bay, in November 1988. They loved both Hughenden and Bingil Bay. Frank died on 14 March 2000 sadly leaving Ruth who remained in Bingil Bay and their son Gary, who now lives in Ingham with his family.
Ruth and Frank regularly came to Brookes Beach for family holidays during their life in Hughenden.
Dorothy and Bernie sustained a good life on the land in their retirement at Brookes Beach. Bananas, pineapples, pawpaws etc. were grown in abundance. Bernie died in 1969. Dorothy lived on at Brookes Beach and was known to give the Johnstone Shire Council 'Larry Dooley' for their failures in fixing roads and the like. In those days, Brookes Beach had no properly assigned name so locals sometimes referred to it as 'Middle Beach' being between Bingil Bay and Garners Beach.
In August 1987, Dorothy Brooke moved into the Rockingham Home in Cardwell. Two years later she moved into the Pinehaven Home in Tully where she was affectionately known as Brookie. She died there aged 94 in 1991. Her brother, Dick, died earlier, Phil died at age 93 and May at 96 years.
Around 1980, Johnstone Shire Council officers approached Dorothy and sought permission to name the beach she lived on (ultimately for 32 years) Brookes Beach. The name was not gazetted but after some lobbying, Ken Gray affirmed the name with Queensland Places and on Google Earth.
Dorothy Victoria Brooke was survived by 12 grandchildren, 17 great-grandchildren and two great-great-grandchildren. She was an accomplished gardener: see photos in the Brisbane Courier Mail Annual 1967 page 23-25 featuring PM Harold Holt and his Bingil Bay retreat. A large photo of Dorothy is shown gathering pineapples at Brookes Beach. A copy of this mint condition publication is held by Ruth and digital copies should be obtained for future Historical Society collections. Dorothy was also an exquisite crochet exponent.
Ruth also has a copy of the Tully Times Special Silver Jubilee Edition June 1989 with a history of Mission Beach developments outlined. This was not located on Trove in 2021.
Scribe: Brookes Beach is a unique beach with quality rainforest reaching down to its edge for the entire length of the beach. It has a Council maintained 50-metre path from a sealed road to access it yet has no road traversing it as most Australian beaches do, so the forest has not been cleared.
While there are weeds at the beach edge such as Singapore daisy (removed at the south end) and coconuts (non-native cultivars imported by European settlers) the flora is largely as it was a thousand years ago with Beach Calophyllums reaching out across the sand in places creating excellent shade for visitors. At the south end, there is an attractive tract of forest with the three endemic palm species filling in the understorey beautifully: Alexander palms grow to around 20 metres alongside smaller, lithe Solitaire palms with the semi-endangered Arenga australasica palms growing profusely as well. The forest at the south end of the beach has not been cleared and many old-growth trees have survived the cyclones over the years.

Giant, buttressed Cairns pencil cedar (Palaquium galactoxylon) thrives on land overlooking Brookes Beach.
This beach has fabulous geological diversity as well, with rocky outcrops and a myriad of colours in the small stones thrown up by some tides. It is a beach where occasionally beautiful, shiny, coloured shells are deposited on the sand when northerly winds blow.
The fauna is equally stunning with over 200 species of butterflies regularly seen in the area, a similar number of bird species including the threatened Southern Cassowary as well as a diversity of reptiles, mammals and marsupials. All in all, it is a special place and now proudly bears Dorothy's name as shown on the Queensland Place Names webpage.

Cassowaries (adult sitting and juvenile standing) on land adjoining Brookes Beach.

Looking south from Brookes Beach across Bingil Bay to the Family Islands.
Descendants of Dorothy Brooke live in nearby El Arish in 2021: Arthur and Carolyn Brooke.
First published 2018.
Compiled by Ken Gray. Edited by Margaret Remilton, Diane Bull and Chris Forbes.
This publication is copyright. Apart from fair dealing for the purposes of private study, research, criticism or review as permitted by the Copyright Act, no part of this work may be stored, reproduced or transmitted in any form or by any means without written permission. Inquiries should be addressed to the publisher.
A record of this title is held at the National Library of Australia (Ebook) and the State Library of Queensland (Print and Ebook).
The text and opinions expressed in this book are those of the author and people interviewed by the author and do not reflect the views of the Mission Beach Historical Society or its members.
Mission Beach Historical Society's logo was designed by Leonard Andy and is copyright © Mission Beach Historical Society. The design depicts a Djiru shield with a cassowary which is the endangered, iconic, flightless bird living in the north Queensland rainforests.
The histories published by Mission Beach Historical Society are as accurate as we can make them. Few accounts of history are 100% correct and there are going to be more errors when we recall events of many years ago. We always welcome suggested edits and additions or deletions and where possible we will edit where we find we are in error. However, the oral histories we record are the words of the people we interview and we can only alter those with the authorisation of the people we interviewed.
Cover: Drone image of Brookes Beach taken from the south headland, featuring one of the area's large Milky Pine trees. This and other images in this article are the copyright of Susan Kelly, Natural Images.