by Ken Gray
---
This is an abbreviated story of Hugo Brassey, one of Mission Beach District's most flamboyant past residents who lived here before WW2.
Glamorous Hungarian Hollywood actor Lili Damita almost became a resident of our district. Instead, the equally exotic Baroness Christa von Bodenhausen arrived here to live on Dunk Island in 1935.
Christa's flamboyant English sweetheart, Hugo Brassey was at the centre of all this excitement. He was always in the news or social gossip columns, even if it was merely for wearing bright red braces to Randwick, or canary yellow cozzies on a Sydney beach.
Lili was born in Paris as Lillian Carré and made more than 30 movies and stage musicals in the 1930s. In 1934, she announced that she was engaged to Hugo. No one had heard of this Hugo guy and her acting contract with Samuel Goldwyn said she could not 'fall in love' before the contract ended. That caused a hullabaloo, which is probably exactly what Lili intended.
The Australian press could not get enough of the story; it was featured in literally every newspaper across the country for months and Hugo was quickly becoming a celebrity. They met at a London party and were photographed together in Paris. Lili was engaged twice before; first to Germany's Prince Ludwig Ferdinand then to a rich American, William Vanderbilt. She was in London, making the stage musical, Sons of Guns and a movie, Brewster's Millions when the news broke.
| | |
| --- | --- |
| Lili Damita | Lili in 'Devil on Horseback' (1936) |
She was described as a provoking, dashing, mischievous little lady and starred with many stars including Cary Grant and Gary Cooper.
Hugo was one of our most intriguing early residents. He made a big splash in the district and often had us in the headlines and social gossip columns. He was from a wealthy English family with some aristocratic ancestors. He lived as a child at Cottesbrooke Hall, in Northamptonshire. Built in 1702, it remains as one of the best examples of Queen Anne architecture in England. Some newspapers referred to Hugo as 'Lord Brassey,' but while he had an uncle with that title, Hugo was not a peer. His father, Robert Brassey, was a Captain in WWI and was an MP fleetingly with highly conservative views and said that he would not stand again in politics because he did not agree with voting rights for women and that voting should be restricted to property owners.

Cottesbrooke Hall, family home of Hugo.
Hugo stayed with Lord and Lady Gowrie (his Aunt) when Lord Gowrie was Governor of South Australia. Lord Gowrie later became Australia's longest serving Governor General. He was a Brigadier General and won a VC and DSO with a bar. Hugo moved to Tabragalba, near Beaudesert, and worked on a farm for a year. He was a good horse and bull rider who was popular and fitted in well on the station owned by his relations, the Persse family. Baroness Sarah Persse was Hugo's great grandmother.
Hugo finally admitted that he was not engaged to Lili, and they were just good friends. Lili was not too devastated and had no shortage of suitors. She soon married actor Errol Flynn instead.
Lili with husband Errol Flynn
Baroness Christa von Bodenhausen
Hugo married young German Baroness, Christa von Bodenhausen. They met merely three weeks before being married in a London Registry Office. She was a distant relation of England's Queen Mary, was stunningly attractive, well connected and highly energetic. She adapted well to her new life on Dunk Island, was highly educated, a trained pilot and spoke five languages.
Christa spent her childhood living in her family's famous castle at Neubeuern near the Bavarian Alps, between Munich and Salzburg. Looking at her grand family home (next page) you wonder at what her parents thought of this elopement.
Christa's family home in Germany
Hugo's father bought the 360 acres of freehold land on Dunk in 1936 as a wedding present. Hugo built a small resort on Dunk in a year and there was great excitement in the district. Sounds familiar?
At its peak, there were 52 people working for Hugo on Dunk. Hugo purchased the diesel generators that powered Ballina in NSW. He build bungalows to accommodate 60 people at 10 shillings a day each. They also built a dance hall, a substantial jetty, an airfield and they improved the water supply.
In 1937, the Governor General and Lady Gowrie arrived at Dunk Island. The Brasseys were not there. The Vice Regal party travelled in style on Australia's flagship cruiser, the HMAS Australia II. They celebrated the opening of the resort's Dance Hall and brought their own orchestra for the event. The ship's company joined in with local dignitaries attending.
Shortly after, Christa petitioned for divorce. Despite her great enthusiasm for her husband and this new life, Christa gave up after two and a half years, but not because she could not hack the living conditions or due to the distance from the bright lights. The couple travelled widely on their 68 foot yacht, Sunbeam and on ocean liners. They disliked the wet season so were in Sydney or Europe often anyhow and were seen at all the right places, like Randwick and Ascot.
Christa's modest home on Dunk – she did have a French chef and the bungalow was refurbished with seven rooms.
Artist, Valerie Albiston lived on nearby Timana Island with her artist sister, Yvonne Cohen and wrote a news article about their lives on the island. She spoke fondly of Charlie, an old Aboriginal/Malay man who had worked for Ted Banfield. He deeply respected Hugo who employed him as his resort gardener. He once said to Valerie, He handsome feller! He good to me. I no care if he like 'em ladies too much. Valerie added, and Charlie's chuckle was knowing. Sadly, the great whirlwind romance was over.
Hugo on Dunk. Photo from James Sing whose father was a close friend of Hugo.
James Sing said, My grandfather, James Sing senior, used to go pigeon shooting with him often. We have an old shotgun with his initials on it that he gave to my grandfather.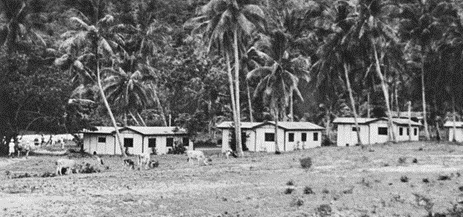 Honeymooners' bungalows which were taken over by the RAAF for quarters during the war.
The Brasseys quickly built the resort and loved the dream yet running it had no appeal at all. It was opened mid-1936 and, shortly after, they left on a long cruise. To make the resort a success, it needed their high profile presence. By January 1938, Hugo had given up on it, and he left for the war in 1939.
His father lost much money on this wild adventure, but the RAAF appreciated the infrastructure when they annexed Dunk in 1942 for a Radar station. Hugo's spit bar was very popular. Hugo retained a house and small lot of land on the island and returned a few times with his second wife up until 1954, when they attended the wedding of Brenda Jago in Tully. Hugo gave the bride away and helped officiate the event.
In the Royal Navy, Hugo was a Commander of a small trawler (M218) engaged in anti-submarine patrols. As a Sub-Lieutenant later, he was with a British force in Norway in 1940. Three trawlers were sunk or damaged by bombers in Namsen Fjord when attempting to evacuate French troops. Hugo was a junior officer on a trawler, the HMT St Goran. It was damaged and sinking and five sailors died before the crew took shelter on the steep shore of the fjord. They returned to the boat, but with a German destroyer approaching, they scuttled it. They fled to Scarpa on the HMS York and shortly after reached Namsos in Norway on a fishing boat.
An Admiralty Report in 1940, commended Hugo: I have pleasure in reporting that the entire ship's company behaved very well throughout the trying experience. Sub-Lieutenant Brassey was most resourceful in dealing with the wounded and during our period in the hills where he did much to keep the men in good spirits. I cannot speak too highly of him. Alan Reid, Lieutenant R.N.V.R. Glasgow, 8 May 1940.
Some say Hugo commanded one of the submarines that sunk the Tirpitz, but that was a furphy. Hugo survived the war and was a Lieutenant when he left the Navy.
He was in and out of Australia after the war while living in Ireland, and he continued his friendship with Bedarra Island artist, Noel Wood who stayed with him in Ireland for two years at Tipperary County, in the early 50s. Hugo married again, this time to Irish-English girl, Barbara, 'Bubbles' Peacock. They met in the war and Bubbles had an horrific accident when driving an ambulance for the Navy in London and was many months in hospital. Surgeons reconstructed her face but could not save the sight in one eye.
Bubbles was into horse racing but came asunder in 1954 when the stewards ruled that some horses she raced were not hers, and she was banned from further races. They lived at Doonass House in County Clare then returned to the family estate he inherited in Clonmel, Tipperary County.
It was a wild ride for Hugo, and while he was born rich and lucky, he died young at 53 years-age and had not achieved much in life. He enjoyed himself immensely, which matters most perhaps.
His short time living here created widespread interest in our district and added to the fascinating Dunk Island stories that Ted Banfield had started earlier. You could not buy such valuable publicity for a budding tourist town, but it would not be until the 1980s that tourism became significant for the district.
HUGO BRASSEY: 10 MARCH 1910 – 24 DECEMBER 1963
Social butterfly, romantic adventurer and popular playboy.
---