Author: Ken Gray
Edited by Margaret Remilton
Matt Hyde is probably unknown to 99% of people in Mission Beach. He was an action man rather than a talker or dreamer or someone who was gunna do. His skilled work in bringing together Council Planners and the region's landowners saved hundreds of hectares of rainforest during his time in our region.
Many Mission Beach Historical Society stories stem from oral histories of local, long-standing families of the area and from researching people or families that have been notable in the past. This history is about a person who once lived in the Cassowary Coast Region and worked for the Johnstone Shire Council but did not live in the district of Mission Beach.
Readers may ask why we would do that rather than focus just on locals. The reason is that The Knight of Our Rainforests, Matthew Hyde, left an indelible mark on our town and it should be remembered. His legacy will endure and have positive impacts on our district long after Matt and all of our readers of today are dead.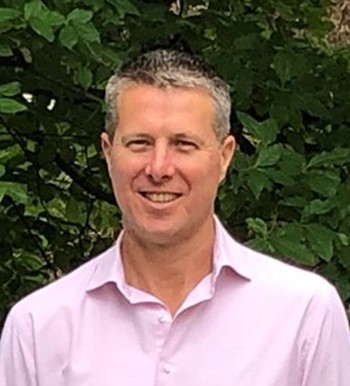 Knight of our Rainforests, Matthew Hyde, now CEO, Wodonga City Council.
Matt Hyde was neither a Councillor nor a senior executive with the Johnstone Shire Council. He is not well known for the amazing work that he did. He was certainly not recognized for his work here. Matt is an unassuming man of few words and is a visionary who is highly motivated and very skilled in his field and in his ability to collaborate effectively with communities.
He was the Council's Supervisor Environmental Management working in the Planning Department for seven years between 1998 and 2005. The Council saw no reason to promote Matt to a Management role, yet when he left us he was quickly elevated and his skills and leadership abilities were soon evident to those who looked and listened. He became Deputy CEO for the Eacham Shire Council then for the Council that Eacham was merged into, the Tablelands Regional Council. He was CEO for a time then moved on to become the CEO at the Snowy Valleys Regional Council in New South Wales. This was another merged Council, where the Tumut and Tumbarumba Shires became one. The region was named Snowy Valleys and their people got lucky when they employed this delightful and capable leader.
In 2022 Matt was appointed to the role of CEO at Wodonga City Council.
Matt began his career as a Research Botanist with Conzinc Riotinto in 1996 and always had a strong interest in and deep bond with nature and the rainforests. Many people in Councils and in Conservation organizations in this region have written grand plans and urged people to save the rainforests and the iconic critters like cassowaries. There is no doubt that the Community for Coastal and Cassowary Conservation (C4), and some of our Councillors over the years, have done much to raise awareness of the importance of the rich and ancient rainforests of Mission Beach.
C4 in 2014, after many years spent seeking funding, managed to save a tract of rainforest which is known as Lot 66. It was planned as a residential development and that would have meant the loss of another 24 hectares of precious fragmented rainforest. That was an excellent outcome and we hope there are more of these moments to follow and the Mission Beach Historical Society will, one day, work with C4 to help write their amazing history. They have similar new projects today.
Matt Hyde is probably unknown to 99% of people in Mission Beach. He was an action man rather than a talker or dreamer or someone who was gunna do. His skilled work in bringing together Council Planners and the region's landowners saved hundreds of hectares of rainforest during his time in our region.
In this story we also examine the ownership history of Portion 19v, a vital strategic cassowary land corridor in Bingil Bay, to illustrate the impact of Matt's work. The history of this land's ownership is quite intriguing with some well-known past residents once owning all or portions of the land.
Matt did not invent Conservation Covenants. These legal tools are used across the planet to help communities protect valuable environmental resources from excessive human development. There are several types of covenants used and they usually aim to ensure that the land or forests are protected in perpetuity by creating an agreement that reduces owners' land-use rights in favour of the environment. In this case, it generally means that the landowner places the land under the terms of the agreement by binding it to the property title. Future owners of the land are consequently constrained by these conservation agreements.
If you like, it is akin to an easement agreement, so it is visible to land buyers when they conduct a title search, and it endures. These were offered as voluntary agreements in Johnstone Shire initially, and those covenants were not enduring. Some of them granted the landowners a discount on their rates. That idea was soon abandoned, and they became enduring covenants that were not linked to rates discounts for the landowners.
The two main types of covenants used in this region are State-based Nature Refuge Covenants and, more commonly, Council-based Conservation Covenants. They achieve the same ends and are written to protect both flora and fauna. The author of this story, Ken, and his wife Thelma Gray, worked with Matt on a covenant covering three forested lots or 6.5 hectares. Matt was an active listener and open to reasonable negotiation on the terms of the covenants. That was probably a large part of the reason for his high success rate in achieving these important landowner agreements.
Whenever someone owning precious rainforest so much as thought of seeking a Change of Use for their land or asked about a small subdivision, Matt was onto it instantly, looking for ways to achieve superior long-term outcomes for the forest and its critters and for the wider community. Even if the landowners of significant forest areas did not seek a Planning Application of any sort, Matt still approached them to be part of the scheme to conserve the forests.
Matt added a clause in our conservation covenants that allowed us to remove many of the introduced species like Merremia vines and other common weeds such as lantana, guinea grass, Singapore daisy and morning glory. That way we were able to to improve the quality of the rainforest and restore it to its pre-European state.
We have not removed every single weed from the land yet most of them are gone now and the trees are no longer threatened by human-spread vines and weeds. The Conservation Covenants encouraged such actions for many owners who entered into these agreements.
FORESTS PROTECTED
From the beginning, Matt Hyde set about charming the landowners of Mission Beach who owned significant areas of the forests that most needed protection. He was strategic in his approach and first spoke to people who owned forest land in vital cassowary corridors. The land on the small hill range on the north end of Bingil Bay was one such corridor, so we use this example, not only because we experienced first-hand how Matt operated with the covenants, but also because in that part of the district he persuaded many landowners to sign the covenants.
The image below shows a couple of resident cassowaries on our land at Brookes Beach, a juvenile and an adult (sitting beside a variegated fig tree, Ficus variegata). The property has forest ridges that have been repeatedly trashed by cyclones, so we built our access roads on these ridges even though that made the roads steeper than they would have been if we used the valley edges. That way we minimized any loss of habitat caused by building the access roads. After building these narrow roads we planted more than 5,000 endemic trees to quickly repair any damage done and to enhance the density of fruit-bearing trees.
In 2021, there were 10 cassowaries that regularly foraging on this land. It's a similar number most years. They love the access roads as no one travels at speed on them, so these tracks provide the flightless birds with safe access to food, especially after cyclones. They roost on the sides of the roads at times and often mate there.

Cassowaries (adult sitting and juvenile standing) on land adjoining Brookes Beach protected by a Council-based conservation covenant.
A Queensland Globe map of the area on the next page shows a forest area which was a high priority for conservation. After Matt's intensive work with landowners he had assigned over 60 hectares of that land to either State Refuge Covenants or Council Conservation Covenants.
There are no figures readily available that estimate how much land in total he protected in his time here, yet it must have been literally hundreds of hectares. That cost Council nothing but his time; there was no loss of rates or use of government capital. It was all done via his strong and persistent engagement and collaboration with landowners who ultimately understood his plan and the value of conserving the forests.
It was never a quick win for Matthew. We took a couple of years before we trusted him enough to assign our land to the covenants, so a great deal of work was required by Matt to win landowners to accept and enact the agreements.
In the area shown below, there are two lots of forest that were donated to the State, one by Frieda Jorissen and one by Kate Tode. There is also a large State-based Nature Refuge exchanged for a Change of Land Use approval, a small Council Reserve negotiated before Matt's time during the Plantation Drive subdivision and many Council Conservation Covenants agreed later between landowners and Matt. 80% of this valuable forest land was protected long-term on title in a number of ways after Matt Hyde's valuable community interventions.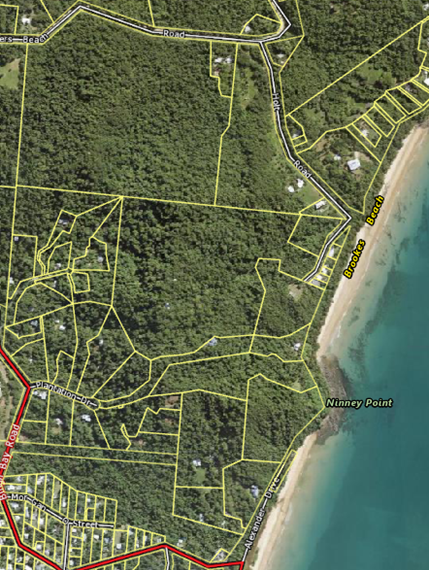 Brookes Beach, from Queensland Globe, 2021.
PORTION 19v
The map below shows a closer image of the portion of land originally labelled Portion 19v on Plan Nr 126 which is the area we have researched for changes of ownership. In 2021, there are 23 homes and a small Eco-Retreat currently built on this land with nine more home sites approved for homes one day, meaning the area will, at its maximum housing density, have only one home for every two hectares of forest. This demonstrates that the outcome of Matt's efforts were outstanding for the environment and the community.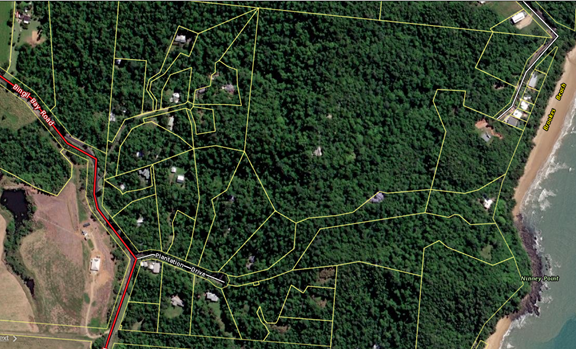 From Queensland Globe, 2021.
In the zoomed image below of a mid-section of this forested area, we can see that some landowners living on land protected by these Conservation Covenants have built carefully, using only a tiny building footprint, thus minimising the loss of precious forest habitat. None of those huge lawn areas often cleared around homes in the past.


From Queensland Globe, 2021.
It is evident that Matt's covenants led to far more than just the long-term protection of the forests. It also enhanced landowner awareness of the forest's value and the need to retain as much of it as possible long-term, and the importance of managing the land well to reduce erosion, remove weeds and retain diversity. The owners of some of these lots invest much money and effort in achieving such goals.
This was one of the Johnstone Shire's most successful environmental initiatives ever. It was achieved by being proactive and was led by a visionary officer who knew how to woo the landowners and work with them closely to achieve win-win outcomes.
Council today does not promote these covenants or see a great need for them and there is no doubt that the need has reduced with changes in legislation and plans eg the Cairns Regional Plan and the Coastal Management Act. However, humans are creative, especially when they see dollars in developments, so having that extra layer of protection on the land titles gives the cassowaries and their mates in the rainforests a better chance of survival into the future.
HISTORY OF LAND OWNERSHIP OF PORTION 19V
This land was known as Portion 19v when first selected by Sidney Cutten in 1903. The Cutten's called it Farm 255 and it stretched from the sea to current day Bingil Bay Road. It was not cleared except for a small area to the far west, now Lot 2 in Plantation Drive. The Cuttens used that area as their nursery for growing tea plants. That was a failed venture, but these tea bushes were used later to start today's Australian and PNG tea plantations and a few remaining tea plants are now giant forest trees today growing on Lot 2. The title map below shows changes made when the land was bequeathed to Sid's nephews (Leonard Dun and Herb Alexander) in 1938.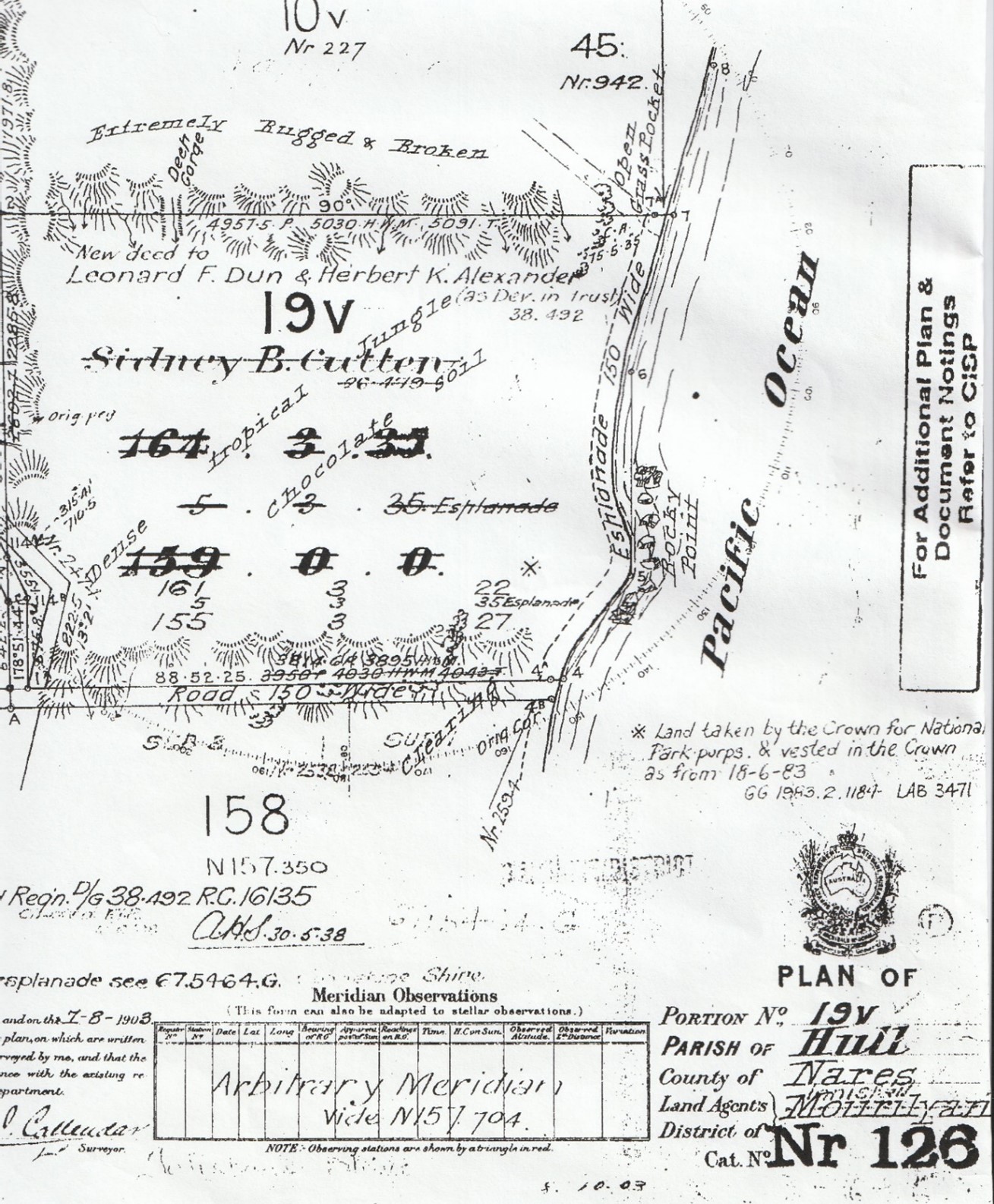 Title Portion 19v.
The land was eventually owned by Margaret Bunting in 1946. Margaret was the daughter of Florence Alexander who was the sister of the Cutten brothers of Bingil Bay and she married notable timber-getter resident, Jack Bunting.
In 1955, Margaret sold the land to Alison Busst, wife of our famed Reef activist, John Busst who led the campaign to save the Great Barrier Reef from mining and oil exploration.
Over the years, Alison sold parts of the land and there were several wild proposals for intensive developments; one being for a 480-bed resort on 23 acres of the land. Fortunately, that failed to eventuate. Then in stepped our Knight in shining armour, Sir Matthew Hyde, who guided it into the safe hands of owners who agreed to protect this forest in perpetuity.
There were Conservation Covenants agreed in the district before Matt Hyde came to save our forests and no doubt there were a few signed after he left us. However, Sir Matthew upped the ante immensely when he was in the chair and went out into the community and pleaded for the forest's protection. During his reign as Knight of our Rainforests we saw a peak in the numbers of covenants written and agreed. This was one of those rare moments when a Council was truly effective in proactively working with their community for the good of our forests.
Thankyou Matthew Hyde!
A last word from Matthew:
I am very humbled that my presence in the area for a short period made a big difference. I could not have done it without my offsider, Mark Gordon or the Planning Team including Murray Broad and Manager Bob Devine. Councillors who backed the idea were vital, especially Cr Ross Overton and Cr Steve Russell; their foresight was a key to our success. GM Eddie McEachan was equally supportive; it's not often you see people with such vision. It was an exciting and proud moment in my life and a love of plants, animals and people always drove me. The people of Mission Beach were very kind and how could you not love the forest, the beach and all the creatures. What an amazing area you live in and it's great that you are telling the stories of the district.
Links to related Mission Beach Historical Society Stories include